Wedding Dance Tuition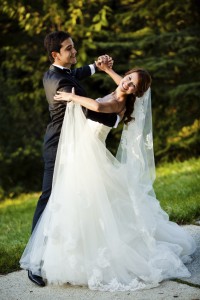 Your wedding day,  your wedding song and your wedding dance!!!!! Why not learn some moves to impress your guests on the big day and give Fred and Ginger a run for there money.  Whether you want to learn the basics,  keep it traditional or maybe something completely different we can ensure to choreograph a wedding dance to suit your needs.
Over a number of sessions a piece of choreography is created and taught to give your first wedding dance that wow factor.  The sessions can be taken either in the comfort of your own home or if preferred in a studio.
With one on one tuition and a professional choreographed wedding dance you will ooze with confidence and enjoy that special moment when you step on the dance floor as bride and groom for the first time.
A Wedding First dance with a difference
Stepping away from tradition? Northwest Dance Solutions can think outside the box for your First wedding dance.  Group dance routines,  Audience participation,  themed dance routines or whatever takes you fancy we can do it.  An element of surprise can be added to your routine by changing the song halfway to something more upbeat and leave that dance floor sizzling.
A family affair
Packages can also be offered to family and friends if a group routine takes your fancy.
First Wedding dance packages
EASY BUT EFFECTIVE DANCE ROUTINES, NO DANCE EXPERIENCE NEEDED, EITHER IN YOUR OWN HOME OR VENUE OF YOUR CHOICE
A)     4 ½ hour dance lesson package-three  1 ½ lessons
This is the amount of time recommended to have that special first dance perfected
£200
B)      Taster lessons
If you looking for a few easy one off dance moves to throw in.
£45
C)      Last minute panic
If you have left things to the last minute a 2 hour crash session can be given to choreograph a simple and easy to remember routine.
£80
D)Group and family sessions
A piece of choreography to include a whole wedding party.
£150 for 1 and a half hours
£200 for 2 hours
£250 for 3 hours
E) Entrance or exit dance for the church or civil ceremony.
Maybe the traditional wedding march is not for you and you want to surprise you guests with a oringinal entrance or exit from you wedding venue.
£60 1 hour and a half
F) Basic Package
£100-Two 1 hour  lessons
G) Additional lessons
£40-1 hour lesson
First wedding dance music ideas
Picking that that piece of music for you first wedding dance can be tricky and should be something that you both love. We appreciate some couples have their own song that brings back a fond memory or is personal to them but if you're looking for a bit of guidance take a look at some of these songs below.
Traditional first dance music
A Million love songs – Take That
Bed of roses – Bon Jovi
Can't help falling in love with you-Elvis Presley
Everything I do I do it for you-Brian Adams
Home-Michael- Buble
Someone to watch over me – Frank Sinatra
Songbird – Eva Cassidy
Suddenly – Billy Ocean
When you say nothing at all – Ronan Keating
She – Elvis Costello
Rule the world – Take that
Fix you – Cold play
Your song – Elton John
By your side – Sade
Fields of gold – Sting
I'm your – Jason Mraz
Cancellations

We understand that preparing for a wedding can be very stressful and you may need to cancel and rearrange lessons.  However if you do not rebook or there is less the 24 hour notice there will be a cancellation fee